This post was written in collaboration with Lamps Plus. All the fixtures are theirs, and all of the calculations and bad jokes are mine.
Hey, everyone! Today I want to combine my love of math with my love of pretty things and talk about how to select the right light fixture for your room. My favorite part of decorating is when there are handy guidelines to help you narrow down the seemingly endless amount of choices available. If you know your style, budget, and room dimensions, it's much easier to select a fixture.
We'll use my dining room as the example. You'll need to know the length, width, and height of your room.
Add the length and width together and change the feet to inches to get the minimum width the fixture should be for your room. For my dining room, this would be 25.5″. The rinky-dink fixture we have now is 14.5″. (Way to go, Texas builders.) To figure out the maximum size, I like to add 6 inches to the minimum. There's no hard and fast rule for the maximum width, just preferences. I'm shopping for fixtures that are between 25.5″ and 31.5″ wide.
The next dimension to look at is your ceiling height and lighting application. In a dining room, you need to make sure that the fixture is tall enough to hang 30″-36″ above the top of your table. (Use the smaller distance in rooms with 8 foot ceilings and the larger distance in rooms with 10′ ceilings or higher.) In all other rooms, keep in mind that your fixture shouldn't drop lower than 7 feet off the ground. Any lower and it will 1. look crazy and 2. be a hazard to your tall guests.
Now that I know the general size of my fixture, it's time to go shopping. Lamps Plus allows you to try the fixtures on for size in your room by uploading a photo, so I took advantage of that. (Plus posts without pictures are no fun.) First up I tried the Tucker 26 3/4″W Antique Brass Octagonal Chandelier. It's expensive, but since no chandeliers were harmed in the making of this photo, I figured it was ok to be a little spendy.
Very nice, but not something I would buy in real life. The scale looks much more appropriate since the fixture is the correct width. While we're still taking a break from reality, I saw the Currey and Company 27″ Wide Crystal Chandelier and thought, why the heck not?
This is like being plucked from Old Navy and getting dumped in the middle of Neiman Marcus. I know I don't belong there, but who says I can't have a little fun and try some stuff on? In reality, my budget is $400.
The Finney 30″ Wide 8-Light Gold Chandelier retails for $399 and is clean lined and classic. 
I think this one would blend well with the new kitchen lanterns. Plus, I like chandeliers where you can change out the shades, because holidays and stuff. (Just getting prepared for being an old lady prematurely, that's all.) This next fixture is too small for my room at 24.5″, but it's one that looks way more expensive than it is so I wanted to share.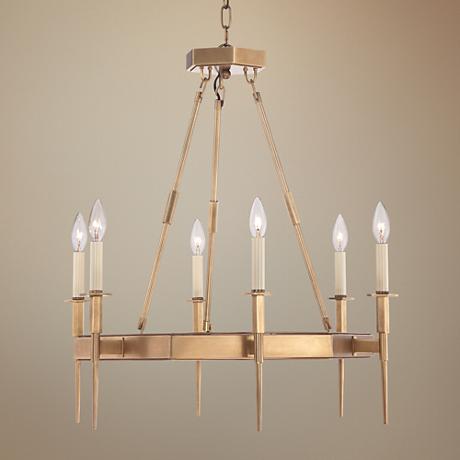 If you're looking for a fixture in a bedroom or living room, the length plus width calculation still applies, but you need to factor in the ceiling height more carefully. Those of you with low ceilings should be mindful of where you place the fixture. If you can place it over a piece of furniture, you have the option to install a semi-flush mount and even some shorter chandeliers. (You can easily find the hanging length on the light specification section of the product description.)
Here are a few of my favorite budget-friendly semi-flush mount fixtures (say that 5 times fast):
I'd like to thank Lamps Plus for once again partnering with me. (If you'd like to see my Lamps Plus fixtures in action, you can check out the mudroom reveal and the guest bedroom.) Thanks for dropping by, and I hope you have a great weekend!